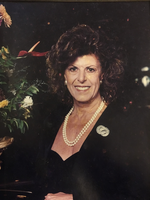 Carole C. Gee
Mrs. Carole (Chmurzynski) Gee passed away peacefully at the Glen Arms Apartments on Friday, February 9, 2018. She was 81 years of age. She was the firstborn child of Julius and Victoria Chmurzynski. Carole was predeceased by her husband Dr. Timothy S. Gee, who passed away in November of 1999. They had been married for over 30 years. Carole was born in New York City on January 22, 1937. She graduated from SUNY Cortland and shortly thereafter traveled to England where she taught English for several years. While there, she met Timothy who was stationed in England during his service in the Air Force. Upon completion of Timothy's service, they relocated to Berkeley, California where they married and resided through Timothy's graduation from medical school. They became parents for the first time in Berkeley with the birth of Victoria, followed a year later by Matthew. They then returned to New York and settled into Great Neck. A third child, Christopher, soon arrived, followed three years later by Stephanie.
Carole devoted her life to raising her four children. She instilled in them the values she espoused: a love of culture and food, the importance of education, and nurturing the gift and bond of kinship. Carole cared deeply about Great Neck. She volunteered with organizations to preserve the beauty of the Great Neck environs. She was an active member of the St. Aloysius Roman Catholic Church. Later in life, after moving to Glen Cove, she became a member of the St. Patrick's Catholic Church. She looked forward every Sunday morning to attending service at St. Patrick's. Carole loved to travel. She believed that exposing her children to different cultures would open their minds and better enable them to choose their own suitable life path. Carole loved to entertain. She would talk to anyone, whether a prince or a pauper, her attentiveness and curiosity unaffected by a person's class, gender, or race. Carole mourned deeply the passing of her beloved Timothy in 1999. She never recovered from that loss. She remained faithful to Timothy to the end.
Carole is survived by her four children: a daughter Victoria (Gee) Plaza and her husband Diego of Roslyn, NY; a son Matthew and his partner Dr. Caren Vance of Alameda, CA; a son Christopher and his wife Kelly of Roslyn Heights, NY; and a daughter Stephanie and her husband Ryan Szczepanik of Pleasant Hill, CA. She leaves six grandchildren: Adrian Gee of Carpinteria, CA; Julian Gee of Carpinteria, CA; Sebastian Plaza of Roslyn, NY; Aiden Gee of Roslyn Heights, NY; Lucas Plaza of Roslyn, NY; and Noah Gee of Roslyn Heights, NY. Carole was predeceased by a sister, Amy, of Lake Ronkonkoma, NY.
Mass of Christian Burial will be held Saturday morning 10:00 a.m. at St. Patrick's R.C. Church 235 Glen Street, Glen Cove, NY followed by interment at St. John's Cemetery in Middle Village, Queens. Relatives and friends may call at Park Funeral Chapels, Friday February 16, 2018, from 2 p.m. to 4 p.m. and 6 p.m. to 9 p.m
Directions to funeral home can be found on the Service Detail page.
To extend condolences to the Gee family or to share a memory of Carole, please visit www.parkfuneralchapels.com.