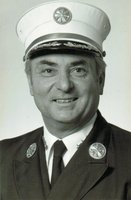 Anthony R. DiMartino
Anthony DiMartino
Tony Di Martino will always be remembered as "the pillar of strength" to everyone in his family, his friends and his FDNY family.
He was a born leader. As oldest of his siblings, Tony was the role model for his younger sisters and brother: Rosalie (now deceased), Beverly and Dennis. He helped each of them throughout their childhood and adult lives, particularly in times of financial and emotional challenges.
True to the consistency of his remarkable character and generosity, he was also a devoted father to his three children: Vickie, Anthony and Celeste, guiding each of them in good times and also with their life challenges and hardships until Parkinson's and Dementia prevented him from doing so.
Despite his humble upbringing with limited opportunities in Bedford-Stuyvesant, Brooklyn, Tony succeeded in his career with the New York City Fire Department, working his way up from the rank of firefighter to Assistant Chief, quite a remarkable achievement. In June,1984, he received the prestigious FDNY Administrative Medal. As a staff chief, he served as the Executive Assistant to the Chief of Department. He then served as Chief of Uniformed an Civilian Personnel, Chief of Training at the FDNY Academy on Randalls Island and culminated his career as Brooklyn Borough Commander. He retired in June, 1990 after 37 years of illustrious service.
Chief Di Martino was both loved and respected at FDNY, with the reputation as both an officer and a gentleman. He had the gift of issuing a command to his subordinates in the form of a request, guaranteeing that his commands were followed, - with pleasure.
Shortly äfter his retirement, Tony volunteered as a crew member of the Coast Guard Auxillary in the 1990's. However, he always made time for frequent trips to Atlantic City, NJ, where he enjoyed his beloved game of craps and the many amenities that devoted gaming provided.
No one enjoyed pizza, ravioli or Rae's cooking more than Tony.
Unfortunately, the physical and behavioral effects of Parkinson's and Dementia slowly and steadily overcame this incredibly wonderful man. However, to his family, friends and extended FDNY family, his strength, courage and generosity will always live in our hearts.