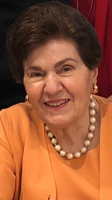 May Vlachos
In Lieu of Floral Arrangements:
Donations can be made in May's Memory to:
The Cathedral of St. Paul - Greek Orthodox Church of Hempstead, New York.
Or
The St. Michael's Home 3 Lehman Terrace, Yonkers, NY 10705
May Vlachos was born on April 19, 1934 in Kastoria, Greece, to Demetrios and Olympia Kefalopoulos. She lived a full life.
She passed peacefully on November 15, 2019 surrounded by her loving family, at the age of 85.
She is survived by her loving children, John & Helene Vlachos and Pauline & Nicholas Papain, her grandchildren, May Vlachos, Ted & Maria Vlachos, Bill and Valerie Papain, Emily & Phil Onesto, Tom Papain, and Christina & Zach Venditto, and her great-grandchildren, Nicholas Papain, Eleni Onesto, Joanna Vlachos, George Papain and Eleni Vlachos.
May made her way to the United States, by plane, in 1945. May lived the American dream with her late husband Ted who she was happily married to for 66 years.
Her love for her family, zest for life, church, travel, and her wit, intelligence and determination, will remain with us forever, as will our eternal love for such a wonderful and loving wife, mother, grandmother, and great-grandmother.
May her memory be eternal!