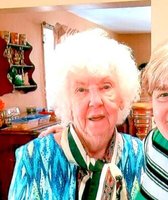 Margaret E. Reuter
In lieu of flowers, you can memorialize Margaret Reuter and celebrate her life and family by donating to the Stony Brook Foundation in support of Thomas Hartman Center for Parkinson's Research in Neurobiology & Behavior.
To donate online:
https://alumniandfriends.stonybrook.edu/site/Donation2?df_id=1573&mfc_pref=T&1573.donation=form1
OR
https://renaissance.stonybrookmedicine.edu/neurobiology/hartman-center and click on the "Give Now" button midway down the page.
In either case, please indicate that your gift is in memory of Margaret Reuter.
By phone:
(631) 632-4887 and indicate your gift is for the Thomas Hartman Center and in memory of Margaret Reuter.
By mail:
Make your check out to the Stony Brook Foundation and put Thomas Hartman Center / In memory of Margaret Reuter in the memo portion, then mail to:
Kathy Weber
Administration Building Suite 488
Stony Brook University
Stony Brook, NY 11794-1601