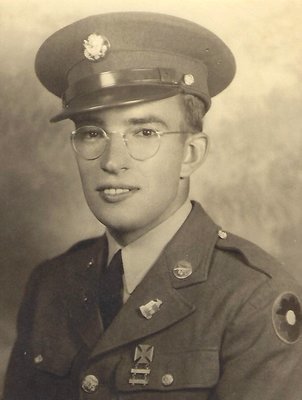 Obituary of Anton Dietrich Jr.
Anton J. Dietrich Jr.
September 17, 1918 – February 16, 2018
On Friday, February 16, 2018, Anton J. Dietrich Jr. of Richmond Hill, NY and Fremont Center, NY fell asleep for his final rest with his family at his bedside at St. Albans Community Living Center in St. Albans, NY after a courageous last battle. He was 99 years.
The son of the late Anton J and Viola Engledrum Dietrich, he was born in Richmond Hill, NY on September 17, 1918. Anton lived on the same avenue his entire life. He attended Holy Name of Jesus Grammar School in Richmond Hill, NY, St. John Prep, Brooklyn and the US Fidelity Insurance School, Baltimore, MD. Anton joined his Father's Insurance Agency and sold insurance for 35 years and then worked for the NYC Board of Elections for 18 years.
Anton was a U.S. Army Veteran of the WWII. He was a member of the Infantry – 39th Regiment, G Company, 9th Infantry Division from 1941 – 1947. He saw action in Africa, Sicily, and France. He was wounded in Sedjenane and France which ended his infantry fighting. He was awarded two Purple Hearts, Bronze Star, French Legion of Honor and many additional awards
On June 3, 1945, he married Charlotte Starr, the woman of his dreams. Anton was predeceased by his wife of 71 years in 2017.
Anton was a devoted husband and loving father and grandfather. He is survived by his beloved daughters, Marjorie (Joseph) Merunka of Woodhaven, Marion Ziegler of North Branch, Grace McLoughlin and Pauline Dietrich of Richmond Hill; Grandchildren: Joseph, Richard and Frank Merunka, Matthew and Gary Ziegler and Diane McLoughlin (Junior) Rivas and numerous friends from his many organization. He was pre-deceased by his parents, wife, daughter, Barbara Dietrich, and son-in-law, Francis Ziegler.
Anton was very active in his community. He was an Usher at Our Lady of the Cenacle for 63 years, Holy Name Society at Our Lady of the Cenacle, a member of the Queens Community 9 Board for 43 years, Van Wyck Civic Association and Past President of Kiwanis Club of Bellerose.
Collecting Antique Cars was a passion that he enjoyed over 60 years. He was a founding member of the Long Island Model T Club (60 years), AACA - Greater NY Region (56 years). He was a member of the AACA – Catskill, Wayne -Pike and New Jersey Regions.
His military organizations include- Life Member and Commander of the MOPH NYC - Chapter 3 and Past Chaplain of the Department of NYS, a Life Member of the DAV 118 – Glendale, VFW Post 5808, Callicoon, NY, and the 9th Infantry Division. He loved to attend his military reunions and also tour with his antique cars.
He loved spending time working on his Antique Cars, woodworking, painting, ceramics, traveling and telling very long stories. If you had a few minutes of time, he could definitely tell you an interesting story of his life.
The family received friends at Park Funeral Chapels in Garden City Park on Wednesday, February 21, 2018. Father Andre Frantz Saint Preux led in prayer. A Funeral Mass is being held at 11:00 AM on Thursday, February 22, 2018 at Our Lady of the Cenacle Roman Catholic Church in Richmond Hill, NY with Father Michael J. Lynch officiating. Interment will in the Calverton National Cemetery with full Military Honors.
In Lieu of Flowers, donation may be made to: Purple Heart Foundation, 7008 Little River Turnpike, PO Box 49, Ababdale, VA 22003 or the Charity of your Choosing.
Arrangements provided by Aliffi Funeral Service.