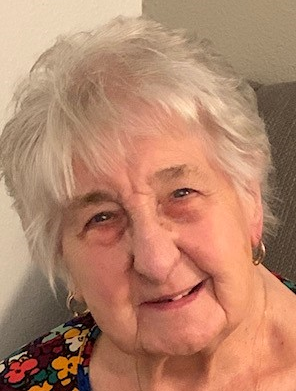 Obituary of Josephine Jablonski
On Thursday, September 8, 2022, Josephine Jablonski passed away peacefully at the inpatient unit at Good Shepherd Hospice. She was 93 years old. Born to George Henry and Mary Ellen Wadeson in Lancaster, England, Josephine left school at age sixteen to go to work and help support her family after tragically losing her father and brother four months apart. Josephine was part of the Girl's Training Corps (GTC) in WWII. The GTC was formed to prepare young women for service to their community and to support in the war effort upon reaching adulthood. Following WWII, Josephine met her husband, Wlodzimierz, a Polish paratrooper who was repatriated to the Allied forces. Not being able to return home to Poland after the war ended he was living down the street from her. They were married in 1950 and emigrated to the United States on the RMS Queen Mary in 1953, settling in Queens Village, with relatives. Her mother and dog, Smokey joined them 2 years later. The family eventually settled in New Hyde Park, NY. Josephine worked as a matron for the builders Levitt and Sons at their headquarters in Lake Success. She went on to become a custodian for the New Hyde Park-Garden City Park school district, later becoming a bus driver and courier for the school board. She was a very hard worker, something that was noticeable to anyone who worked alongside her. Josephine was an avid reader, instilling the love of books and reading in all her children. She was active at St. Elisabeth's Episcopal Church as a reader and always helped at their annual flea market. Josephine loved to travel often and one of her favorite places to visit was Niagara Falls, Canada. She took her family to Walt Disney World in 1972, 6 months after its opening. In her recent years, she loved to visit Disney World again and ride "It's A Small World". Josephine remained a citizen of the United Kingdom and she was very proudly British. She raised her children to be good citizens of her adopted country, which she loved. She traveled to the UK many times, touring most of England and Wales. Her favorite place to visit was her childhood home of Lancaster and Morecambe where she could have a "cuppa" with her cousins and extended family. Josephine was known for her kindness and generosity. She volunteered at her church to take meals to the Ronald McDonald House and sponsored families every holiday season. She also always had a special place in her heart for animals and loved caring for many pets. As she grew older, she focused on rescuing cats with her daughter, Marti and son in law Phil. Josephine leaves behind son Martin and daughters Veronica and Martha, daughter in law Grace, son in law Philip, grandchildren Joseph and his wife Tabitha, Annie and her boyfriend George, and great grandson Hero. Josephine's wake/viewing will be from 4pm to 8pm on Sunday, September 18 at Park Funeral Chapels. 2175 Jericho Turnpike New Hyde Park, NY 11040. Her funeral mass will be on Monday, September 19 at 9:30am at St. Elisabeth's Episcopal Church 6 Harvard Street Floral Park, NY 11001. Burial following at Nassau Knolls Cemetery 500 Port Washington Blvd. Port Washington, NY. 11050. In lieu of flowers, donations can be made to Good Shepherd Hospice 110 Bi-County Blvd, Ste 114, Farmingdale, NY 11735. or to St. Elisabeth's Episcopal Church of Floral Park for their food and paper pantry.
Visitation
4:00 pm - 8:00 pm
Sunday, September 18, 2022
Park Funeral Chapel
2175 Jericho Turnpike
Garden City Park, New York, United States
Funeral Service
9:30 am
Monday, September 19, 2022
St. Elizabeth Episcopal Church
6 Harvard Street
Floral Park, New York, United States
Final Resting Place
11:15 am
Monday, September 19, 2022
Nassau Knolls Cemetery
500 Port Washington Blvd.
Port Washington, New York, United States
Share Your Memory of
Josephine
ABOUT | PLANNING | GRIEF | FACILITIES | SERVICES | RESOURCES




2175 Jericho Turnpike | Garden City Park, NY 11040 | T: (516) 747-4300 | F: (516) 747-0999
www.parkfuneralchapels.com