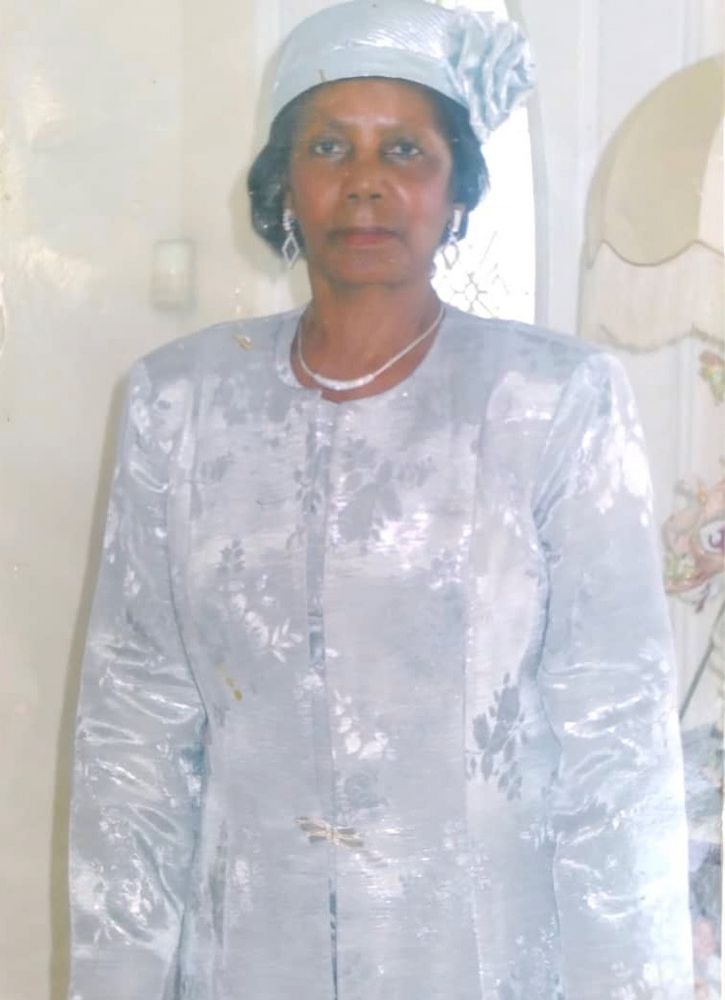 Obituary of Mariella Casseus
Ms. Mariella Casseus was born on February 15, 1935 in Makako, Haiti to Ms. Elimène Alphonse and Mr. Justin Casseus. She gave birth to one son, David Duchatellier in 1956.

In Haiti, she worked in commerce selling various food items, such as corn, rice, pitimi, beans, oil, herring, mango, avocado, kassav and wayal. Her days usually started by waking up at 4:00am, getting herself ready, then attending 5:00am mass at Cathedral of Port-au-Prince. After mass, she would begin her work day.

Family was very important to her. She supported and took in her two nieces, Marie Magda and Marie Angelite (Didine). She invested greatly in their education and is the reason Magda is a nurse today.

In 1983, she emigrated to the United States to join her son in New York. She spent years working in a factory and then retired. After retirement, she began caring for her twin granddaughters, Christine Duchatellier and Julissa Duchatellier and later, her youngest granddaughter Chelsie Duchatellier. Her greatest accomplishment was making sure that they all spoke her language, Haitian Creole.

While in New York, Mariella never left her entrepreneurial spirit behind nor did she forget about her family still living in Haiti. She purchased clothing, food, sheets, curtains, cosmetics and perfumes to resell in Haiti. She would also make pikliz and epis to resell in New York. Any money that she made went to supporting Magda, Didine, and the rest of her family in Haiti.

She loved gardening and planted tomatoes, beans, corn, and joumou every year. She also loved cooking and would often make large pans of griot, rice and chicken for parties. Everyone knew that Mariella made the best griot.

She loved the church with all of her heart. She attended Saint Antoine in Fort National while living in Haiti and was a part of the group La Sainte Famille at the church. She attended Sacred Heart Church while living in Queens and Saint Boniface while living in Elmont every Sunday. She loved watching Pitit Manman Mari daily on YouTube and watched their videos until the moment of her passing.

Mariella was predeceased by her parents, Elimène Alphonse and Justin Casseus, and her siblings Viergella Casseus, Sauveur Demosthene, Dieujuste Casseus, Amélie Casseus, Rose Casseus, Alourdes Casseus, Justina Casseus, and Denise Casseus.

She is survived by her son, David Duchatellier, her daughter-in-law, Marie-Josée Charles Duchatellier, her granddaughters, Christine Duchatellier, Julissa Duchatellier, and Chelsie Duchatellier, and a host of nieces, nephews, cousins and friends.
Visiting Hours
5:00 pm - 9:00 pm
Friday, April 28, 2023
Park Funeral Chapels
2175 Jericho Turnpike
Garden City Park , New York, United States
Funeral Mass
10:30 am
Saturday, April 29, 2023
Sacred Heart R.C. Church
115-50 221st Street
Cambria Heights, New York, United States
Committal
12:30 pm
Saturday, April 29, 2023
All Souls Crematory
72-02 Astoria Boulevard
East Elmhurst, New York, United States
Share Your Memory of
Mariella
ABOUT | PLANNING | GRIEF | FACILITIES | SERVICES | RESOURCES




2175 Jericho Turnpike | Garden City Park, NY 11040 | T: (516) 747-4300 | F: (516) 747-0999
www.parkfuneralchapels.com