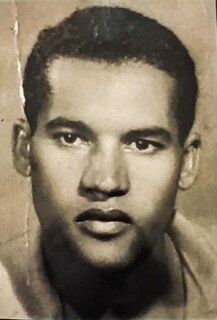 Obituary of Dr. Pierre Andre Brutus
Dr. Pierre Andre Brutus, affectionately known as Pierrot, was born on December 21,1939 in Port au Prince, Haiti to the late Desaix Brutus and Clelie Lespinasse. He was the youngest of 10 children.
He was a bright child who spoke fondly of his kindergarten experience which he attended in 1944 with Mrs. Languichatte as his teacher. He spoke often of daydreaming while there until one day his aunt startled him by picking him up and taking him to Lycee Petion where he attended both elementary and high school. He loved his experience there and often stated this formed his character and the man he would become. It was there he developed a love of sports -- mainly soccer – and became an active student. He participated in activities such as writing a newsletter and advocated for students to wear a uniform which the school ultimately adopted.
Pierrot was an active soccer player at the national Haitian club level until he suffered a knee injury which helped him to make the decision to not pursue soccer further and to focus on what would be his calling in life- medicine.
Pierrot entered medical school, Faculte de Medecine de Haiti, in 1962. He developed many lifelong lasting relationships during medical school, including meeting a young bright woman named Anne Ninon Philippe during their third year of medical school. We acknowledge the great bonds formed with a great group of doctors he met during that time that continue today in the United States. Pierrot and Anne Ninon would both go on to graduate medical school in August 1968 and married on Sept 14, 1968 in Port au Prince, Haiti. They gave birth to their first son Pierre Sidney in July 1969 and Claude would follow less than a year later in June 1970.
Pierre and Ninon moved to New York in November 1970, leaving Pierre Sidney and Claude with his sister, Marie, in Haiti to start their medical careers. He started his internship at St. John's Episcopal Hospital in Brooklyn in 1971 and completed his residency in Anesthesiology at Downstate Medical Center in 1974. Pierre and Ninon welcomed their third son, Ralph, in 1973 and Sidney and Claude immigrated to New York in 1974 to join their parents and brother. A few years later, they welcomed two daughters, Rachelle and France, to the family.
Pierrot worked as an anesthesiologist for many years in a few different hospitals but realized he did not like the relationship he experienced between anesthesiologists and surgeons and went back to complete residency in internal medicine in only two years. He worked as both an anesthesiologist and internist for a few years. Eventually he pursued a specialty in geriatric medicine and spent many years working at various nursing homes, including Marcus Garvey and A. Holly Patterson where he served as Medical Director. He most recently worked at Crown Nursing Home (now known as Le Chateau). Medicine was Pierrot's passion and one of his main purposes in life. He worked up until the last weeks preceding his death.
Pierrot was a fighter. He was diagnosed with colon cancer in 2002 and beat the odds given to him then. He continued to practice medicine and said surviving cancer made him an even better doctor. He also would develop a stronger faith practice, becoming an active member of Queen of the Most Holy Rosary Church as an usher and joining the Black Catholic Ministry there.
Pierrot passed away on Thursday May 4, 2023 at NYU Langone Hospital- Long Island from metastatic pancreatic cancer. His energy, his laughter, his penchant for telling jokes and his stories will be sorely missed. He created a lasting legacy built on family, friendship, community, hard work, consistency and love.
He is predeceased by his son Pierre Sidney. He is survived by his wife of close to 55 years, Anne Ninon; five children Claude Brutus (Angel), Ralph Brutus (Andrea), Rachelle Scott (John), France Brutus and Jean-Pierre Brutus; his three older sisters, Marie Brutus Cedras, Paule Brutus and Lourdes Brutus; his seven grandchildren Jeaulamie, Kendall, Journey, Harper, Camryn, Ethan and Mia; his beloved many nieces and nephews and countless other family members friends and colleagues.
Sincere condolences to all of the affected families including the Brutus, Philippe, Lespinasse, Cedras, Magny, Salvant, Salomon, Boisrond, Kossaras, Nemorin, Eustache, Green, Ault and Scott families.
Entombment
Friday, May 19, 2023
St. Charles Cemetery
Conklin Avenue
Farmingdale, New York, United States
Visitation
8:00 am - 10:00 am
Friday, May 19, 2023
Park Funeral Chapel
2175 Jericho Turnpike
Garden City Park, New York, United States
Funeral Mass
11:00 am
Friday, May 19, 2023
Queen Of The Most Holy Rosary RC Church
196 W. Centennial Avenue
Roosevelt, New York, United States
Share Your Memory of
Dr. Pierre
ABOUT | PLANNING | GRIEF | FACILITIES | SERVICES | RESOURCES




2175 Jericho Turnpike | Garden City Park, NY 11040 | T: (516) 747-4300 | F: (516) 747-0999
www.parkfuneralchapels.com