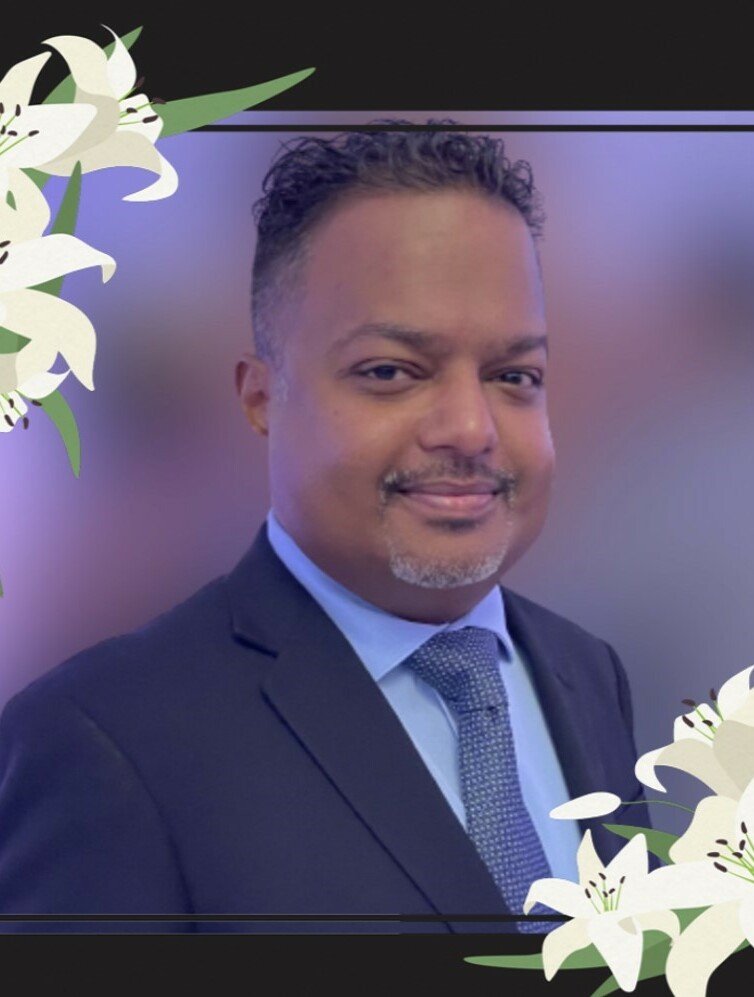 Obituary of Vasant Velayudhan
"The body may perish, but its soul never dies."
-Bhagavad Gita-
ॐ
Vasant Velayudhan, eldest son, brother and the father of twin children passed away after battling multiple health issues on Sunday July 2nd, 2023. He was 46 years old.
Vasant was born on May 6, 1977 in Copiague, New York to Velayudhan Kochupennu and Ammini Velayudhan, immigrants from Kerala, India. He graduated from Copiague Senior High School and attended Stonybrook University for electrical engineering. He later obtained certifications in network engineering and cybersecurity. Over the course of 20 years, he worked for a variety of corporations as an IT specialist and manager, including Morgan Stanley, Northshore LIJ, Perot Systems and Dell Inc. As a global specialist for Dell, Vasant traveled around the world, including to Mexico and Bangalore, India.
Vasant's parents were founding members of the Sree Narayana Association of North America. They were instrumental in the early development of the association. Along with his family, Vasant participated in and helped organize many of the SNA's monthly meetings and other events. Vasant will be greatly missed by everyone, including the members of the SNA. Being the eldest son and brother in his family, Vasant was always there for his parents, cousins, brother, uncles and aunts. He leaves a legacy with an unfading memory of his smiling face enshrined in the hearts of all of his family and friends.
Vasant's two children Vishal and Vidhya were born on December 19th, 2010. As a single father, Vasant's children were the driving force in his life. He was an extremely devoted and loving father. He enrolled the twins in school soccer and baseball teams, played basketball with them and even taught them karate. He traveled and vacationed with them frequently, most recently going to Kerala last summer. Vasant did his absolute best to ensure that his children had a great life with many happy memories.
Vasant left a mark on everyone he met. He could make anyone smile and was known for his quick wit and sense of humor. He was very generous and always offered a helping hand to anyone in need, both friends and strangers alike. His colleagues at work saw him as a great leader and manager who was approachable and hardworking, and led by example.
Vasant was preceded in death by his father, Velayudhan Kochupennu. He is survived by his mother, Ammini, his children Vishal and Vidhya, his brother Vinod, and his cousins Sankaran, Sameer and Saritha, among many other family members.
Visitation
11:00 am - 1:00 pm
Saturday, July 15, 2023
Park Funeral Chapel
2175 Jericho Turnpike
Garden City Park, New York, United States
Visitation
5:00 pm - 7:00 pm
Saturday, July 15, 2023
Park Funeral Chapel
2175 Jericho Turnpike
Garden City Park, New York, United States
Committal
Private service will be held for immediate family.
Share Your Memory of
Vasant
ABOUT | PLANNING | GRIEF | FACILITIES | SERVICES | RESOURCES




2175 Jericho Turnpike | Garden City Park, NY 11040 | T: (516) 747-4300 | F: (516) 747-0999
www.parkfuneralchapels.com